John Hope Bryant on financial dignity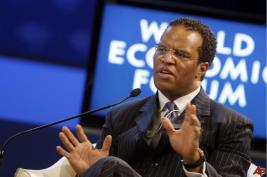 John Hope Bryant at the World Economic Forum in Davos, Switzerland. (Image courtesy of Operation Hope)
Guests
John Hope Bryant: Founder and CEO of Operation Hope. He serves on President Obama's Advisory Council on Financial Capability. He is the author of "Love Leadership."
Resources and Links
John Hope Bryant at The Huffington Post
The President's Advisory Council on Financial Literacy
President Obama announces summer jobs initiative
NPR: Youth Joblessness Creates Ripple Effect
Related Stories
John Hope Bryant on Midmorning, 11/05/2009
John Hope Bryant on Midmorning, 7/22/2009
When the world's top economic leaders gathered last month in Davos, Switzerland, the crisis they were most worried about wasn't Greek debt, the price of oil or global trade imbalances. It was something they call a "social and economic time bomb": youth unemployment.
And if you think it's a problem that only countries like Egypt or Great Britain have to confront, you haven't seen the numbers in the U.S. lately.